I have practiced law in Alaska since 1975 and have managed my own law office since 1990. I credit the duration and success of my practice to my love and knowledge of the American civil justice system as a tool for helping individuals overcome the economical, emotional and physical obstacles that inevitably arise in the aftermath of personal tragedy and loss.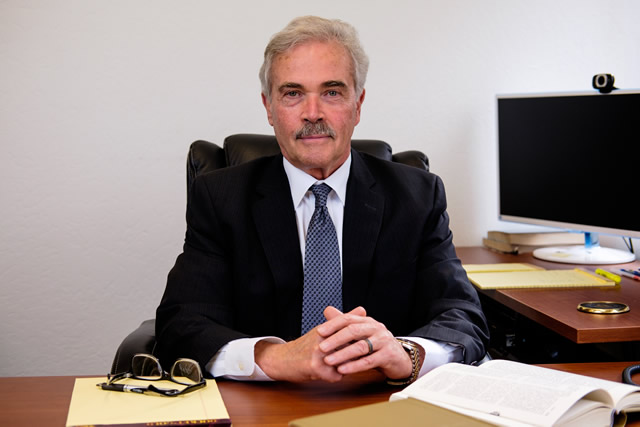 A Foundation Built for Success
I've worked in the medical arena of law from the beginning, starting my career as a partner at an A-rated law firm. There, I gained excellent insight into how insurance companies, large corporations and hospitals respond to the claims of injured people. This laid the invaluable foundation for my current work as a plaintiff-only lawyer.
You alone cannot take on an insurance adjuster, a hospital risk manager or another corporate behemoth. These entities have limitless resources. Through my decades of experience, I've learned the nuances of these types of cases and am greatly fulfilled by providing advice and representation to those who feel lost and need assistance navigating our legal system in order to achieve extraordinary verdicts, regain their dignity and improve the quality of their lives.
Providing Individual Care
As a personal injury lawyer, I realize that my work is about personal service. I don't take a cookie-cutter approach to my cases. It's about providing individual care within the foundational framework of the law. Hence, I take on enough cases to keep me continually challenged, but not so many that I can't provide each client with the guidance and attention to detail required for success. I base my approach on these core principles:
Being Accessible
Establishing Credibility (with judges, jury and colleagues)
Building Trust in the Legal System (an uphill slog!)
Demonstrating Honesty
Determining Realistic Expectations
Based on these principles, I work with clients to effectively:
Identify the different directions we can take.
Differentiate between the unique and common qualities of the case.
Determine the critical information and expertise we have and what we need.
Navigate the labyrinth of legal questions.
Understand what you can get and why.
A Positive Change in the World
I practice this kind of law because I know this is how I can affect positive change in our world. When it comes to individual losses, large corporate entities often have no regard for the lives they impact. They don't want to be held accountable or owe anything. I am only able to change that one client at a time.
But, that's only part of it. I like the science of this work.
I love reconstructing accidents and the mechanism of injury so that everyone can approach the case with sufficient understanding.
I relish the opportunity to find the best experts in the country for the cases I represent. This is no easy task.
I take pleasure in preparing the case so meticulously that we can successfully avoid trial or I can do what I do best if we do go to trial.
At the end of the day, I like getting resolutions and having satisfied clients.
In 2010, I successfully collected a 2.4 million dollar, single plaintiff, medical malpractice jury verdict. Many other cases have been settled, each in excess of one million.
Summary of Credentials
I graduated from Boston College Law School and have a magna cum laude undergraduate degree from Providence College. I was fortunate to receive scholarships for both.
Between college and law school, I served our country in the U.S. Army, including a year of combat in Vietnam as a lieutenant.
I am admitted to practice in all state and federal trial courts in Alaska as well as the appeal courts, Alaska Supreme, 9th Circuit and United States Supreme Court.
My role in the following organizations supports my ability to more than adequately represent my clients and make contributions that improve the quality of life and safety of the public.
Serve on the National Board of Governors (representing Alaska) for the American Association for Justice. This is a plaintiff-only trial lawyers association.
Member of the Board of Directors for the Alaska Academy of Trial Lawyers (Alaska Association for Justice)
Sustaining member of the American Association of Justice.
Member of an elite national group specializing in medical malpractice cases.
I have been invited to list in both Super Lawyers and Best Lawyers. These invitations require peer nomination.
A Record of Success
I have tried over 150 cases. I've settled over 1,000.
In 2010, I successfully collected a 2.4 million dollar, single plaintiff, medical malpractice jury verdict (See Roderer v. Dash, 233 P.3d 1101). Many other cases have been settled, each in excess of one million.
Settlements are often kept confidential, but you can read our brief case studies for more examples of the results I achieve with my clients.
Let Me Help You
To set up a time to meet with me and discuss your case, please contact my office online, or give us a call at (907) 278-8850 to set up a consultation. I can review your case and give you an honest, accurate review of your legal options.